Rosewood Mansion on Turtle Creek Rooms
You will not find a more exquisite location to stay in the Downtown Dallas area than the Rosewood Mansion on Turtle Creek. Reserving your next stay in this beautiful hotel, you will be located in a tree-lined neighborhood on Turtle Creek Boulevard. As you pull up to the entrance, you realize that you are not staying at your everyday hotel. You are staying in what was once a well-known Mansion in the Dallas area. Not only do you get the pampering you would from a 5-star hotel, but you also get to look at the refinement that surrounded the wealthy who owned this lavish home before it was opened up to the public as a Hotel.
5 Star luxuries and accommodations
Wouldn't you think that there would be a large number of 5-star properties in a city as large as Dallas, Tx? Believe it or not, this is not the case. In reality, the Rosewood Mansion is the only 5 Star and 5 Diamond Rated property in Dallas. On top of this property being such an elegant find, some of the rooms even come with a Deep Soaking Jacuzzi Tub. Perfect for those nights where you just want to take it all in and relax.
Note: While there might not be any other properties in Dalla with a 5-Star and 5 Diamond rating, there are a few more 5 Star Hotels in Dallas.
Deluxe Rooms – Least expensive rooms
The Deluxe Room has 450 Square Feet of space, and you get to choose between 1 king or two queen beds. This room has no Soaking tub, but it is the least expensive room. You could always use the Spa tub at the property spa facility if you want to save money. There is even a steam room in the spa.
Premier King – Hotel Rooms with Deep Soaking Tub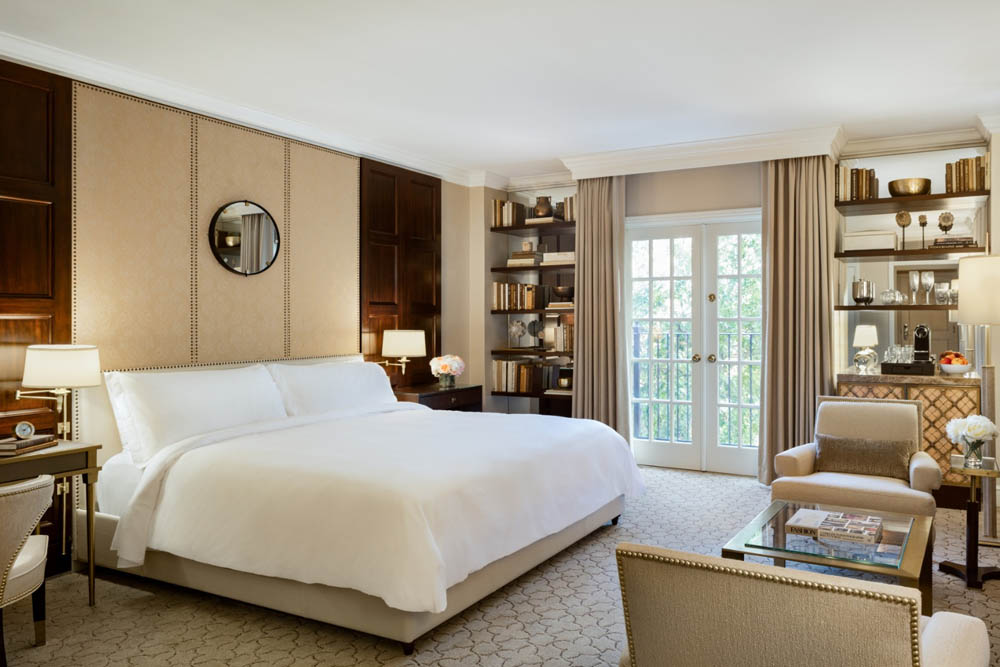 The Premier King (all premier are 450 sq ft and have soaking tubs) is the only room (not a suite) that offers guests a deep soaking tub. You will also find the deep soaking tub in the suites, but the price is much higher for one of the suites at the Rosewood Mansion. The Premier King room can accommodate up to 3 guests and are all non-smoking. Other room amenities include: 1 King Bed; Free WiFi; Free Bottled Water; Private Balcony; Rivolta Carmignani Italian Bed Linens; Minibar; LodgeNet Video
Manor, Estate & Mansion Suites at the Rosewood Hotel in Dallas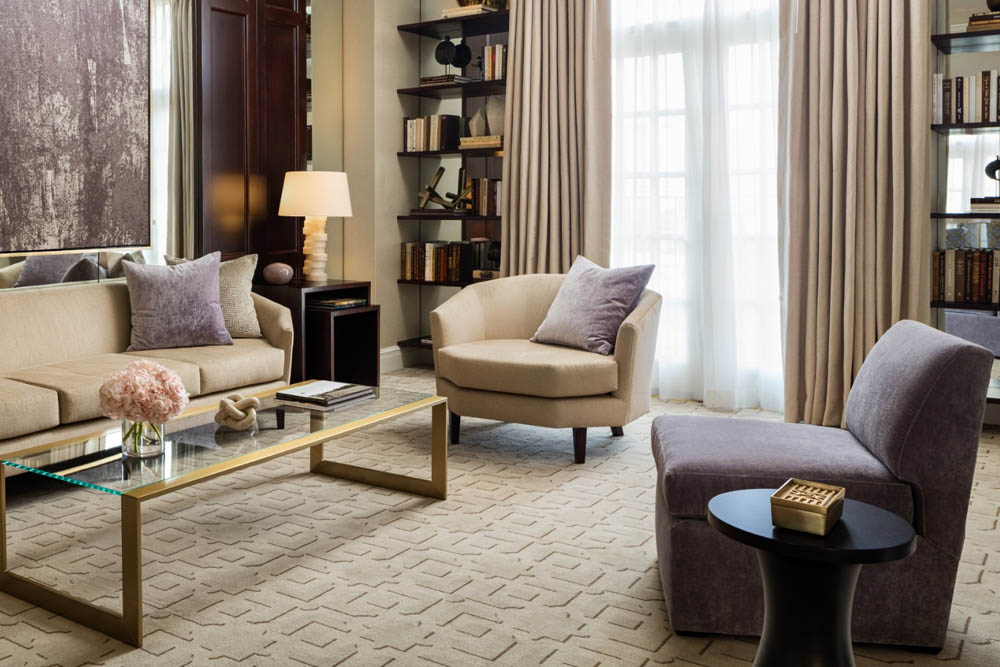 For a full experience with amazing amenities and space, the suites at the Rosewood Mansion are the way to go. Starting with the Manor Suite, Estate Suite, and Mansion Suite with 900 square feet, these suites offer double the area you would get in the Deluxe rooms. It is worth mentioning that the Manor Suites are on Floor #7, Estate Suites are on Floors #1 and #8 and the Mansion Suites are on Floor #9. All of these Suites have 1 and 1/2 bathrooms making them feel more like an apartment living area than a hotel room.
Contemporary Bespoke furnishings
Custom Art
Clean Lines and stylish color palette
Mahogany Millwork
Deep Soaking tub
Feels more residential
Book one of these amazing suites for your next luxury experience in Dallas.
Turtle Creek & Rosewood Suites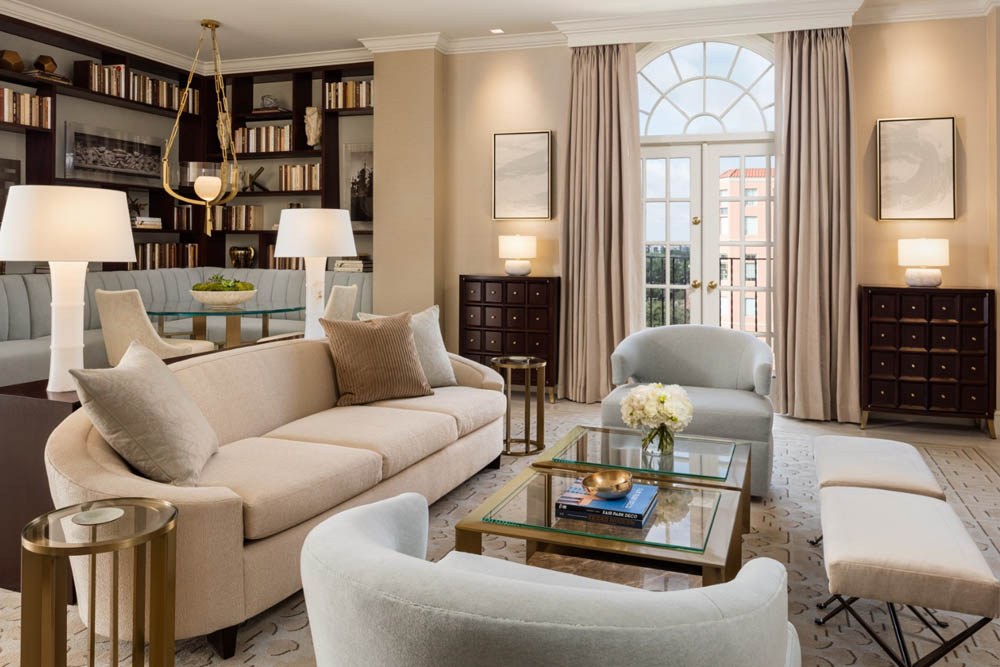 The massive amount of space you get in the Turtle Creek and Rosewood Suites is just amazing. With 1,350 square feet, this incredible one bedroom has plenty of room for a kitchenette, powder room, and dining area. The bedroom hosts a king bed with a private flat screen tv and sitting area. Getting ready for your day is wonderful in the large bathroom with double vanities. The soaking tub is also a wonderful edition at the end of the day when you just want to relax. Staying at one of the Turtle Creek Suites will place you on Floor #7 or #8 while a stay in the Rosewood Suite is on Floor #9.
If you make your reservation for the Rosewood Suite you will also have a large rooftop terrace. This outdoor space adds a full 1,175 square feet to the suite and makes for incredible views around the Mansion.
Contemporary Bespoke furnishings
Custom Rugs
Damask Wallcoverings
Stylish color palette
Mahogany Millwork
Deep Soaking tub
Reservations at one of these large suites will make you feel like royalty in your next visit to the Dallas Tx area
Bath Amenities and Perks Include:
(Deep Soaking Tub in Suites and Premier King Room only)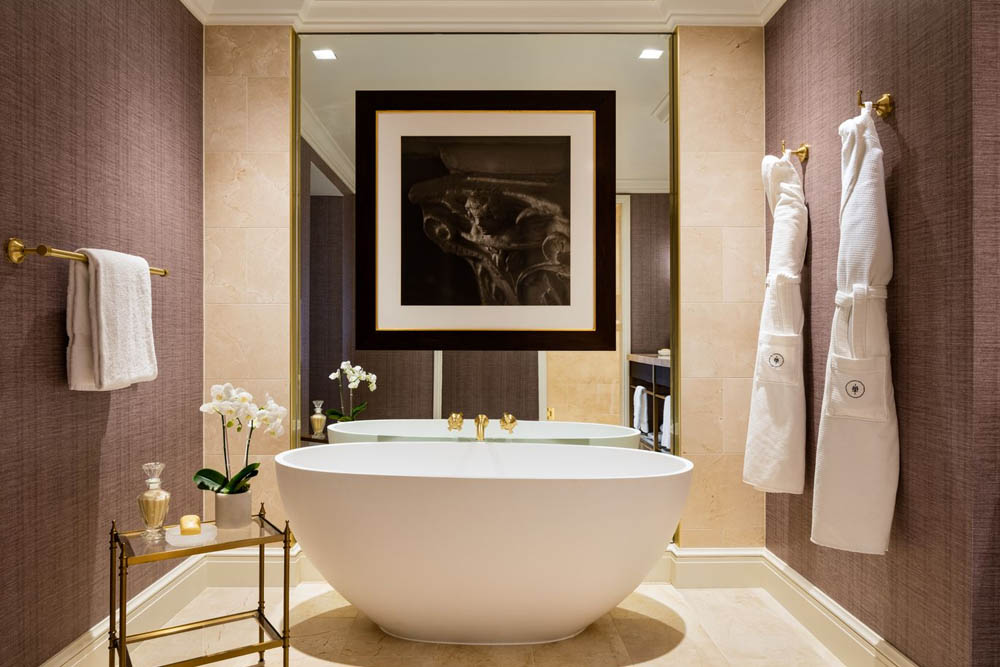 Deluxe Bathrobes and Slippers; Marble Bath Area with Soaking Tub and Twin Sinks; Natura Bisse Hair and Skin Care Products; Hair Dryer; Vanity and Full-Length Mirror; 100% Cotton Over-sized Bath Linens
Note: You will only get a deep soaking tub when booking a suite or the Premier King room. Deluxe rooms come with a shower only.
RESERVATIONS
Rosewood Mansion on Turtle Creek