Great Wolf Lodge Outdoor Water Park Grapevine Texas
Since most of the time Dallas Tx is very hot and sunny, on top of having the Indoor Water Park you can also enjoy soaking up the sun at the Great Wolf Lodge Outdoor Water Park Grapevine Texas. The Outdoor Water Park adds a lot of additional square feet and makes things much less crowded when the Resort is busy. Both of these options are available for Guests and are not open to the public.
Outdoor Hotel Water Park near Dallas
There are a number of really great Water Parks in the Dallas Tx region but there are very few hotels with a Water Park. The Great Wolf Lodge in Grapevine has an Indoor and Outdoor Water Park you can enjoy without ever leaving the resort. The Outdoor Water Park at the Grapevine Great Wolf Lodge has many fun things to do for you young and old alike. Named the Racoon Lagoon, this outside play zone is great because of the additional big water slides that dump into a section of the pool. The pool itself has a number of gushing fountains and has a Zero-Entry access point that makes it easy for the kids to get in and out without adult help. Since this is a gradual taper into deeper water, you still need to keep a close eye on your little ones.
Seating is plentiful and close to the Pool. Get a Lounge Chair early to get the best location to watch your little ones play while you relax and sit by the pool.
At a Glance
Indoor Pool:

No

Outdoor Pool:

Yes

Heated Pool:

Yes

Lazy River:

No

Water Slide:

Yes

Hot Tub:

Yes

Zero Entry:

Yes

Kiddie Area:

Kind of

Wave Pool:

No
Height Requirement: 48″ Minimum

Weight Requirement: 400 lbs Max
Fun Large Water Slides
2 Big Twisting Outdoor Water Slides make it fun for all to go outside and enjoy the water amenities in the hot sun.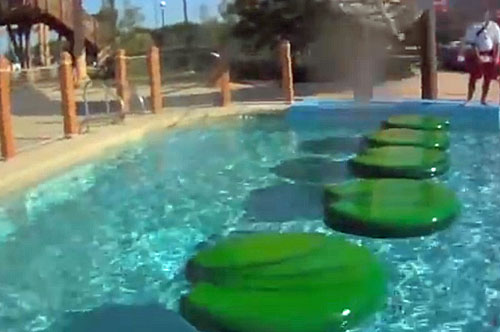 Height Requirement: None Listed

Weight Requirement: None Listed
Splash Fun
Not really a Kids Splash Park but the pool does have Zero-Entry and there are fountains for the kids to have a great time in. In one section of the pool there is also a set of Lily Pads that the children can try to cross by holding the ropes over head. If you are interested in a real Kiddie park, there are a few inside that the kids will enjoy
Gushing Fountains of Water
Gradual Sloping Entrance to the Pool
RESERVATIONS
Great Wolf Lodge Grapevine