Great Wolf Lodge Indoor Water Park Grapevine Texas
If you want some fun and excitement during your trip to Dallas, check out the Great Wolf Lodge Indoor Water Park Grapevine Texas. The Great Wolf Lodge is only minutes north of the Dallas-Fort Worth Airport and makes for a very nice stay, especially if you are looking to spend some quality time with the kids. They will love the Indoor Water Park and if it is nice outside, they will also have the option of playing in the Outdoor Water Park as well.
Indoor Water Park near Dallas Texas?
So you are going to Grapevine Tx, right outside of Dallas where it is known to be really hot for most of the year. Why would you want to go to a resort with an Indoor Water Park? There are a number of reasons to consider an Indoor Facility. On really hot days, you might just want some shade and get out of the heat of the sun for a while. What if a big storm rolls through, your kids will be thrilled that they still get to frolic and play in the water even when it is bad weather outside. If you have not been to Grapevine in the Winter, you might be surprised at just how chilly it can be. Over the past years, they have actually been hit with a number of ice storms.
Family Fun for All
When you include the Indoor Water Park at the Great Wolf Lodge in Grapevine with the Outdoor Park, you have well over 80,000 Square feet of the play area. The Indoor area has Attractions like Large Water Slides, a nice Lazy River, and even a Wave Pool. Add to this a large Kiddie Splash zone with a 1,000-gallon tipping bucket to drench all who walk beneath it. So, have a look at all of the fun you can have with your family on a trip to the Indoor Water Park at the Great Wolf Lodge.
At a Glance
Indoor Pool:

Yes

Outdoor Pool:

No

Heated Pool:

Yes

Lazy River:

Yes

Water Slide:

Yes

Hot Tub:

Yes

Zero Entry:

Yes

Kiddie Area:

Yes

Wave Pool:

Yes
Slides for All
Since you have a limited amount of space in any Indoor Water Park, a great way to pack more in is to take some of the rides outside. What I mean is, some of the Large Water Slides are so big that they would take up all of the space if they were completely housed in the enclosure so a way around this is to enclose the slide and put the main part outside. This allows you to start and finish inside but most of your slippery adventure takes you outside of the walls of this massive building. Enjoy 4 large Water Slides for the bigger kids and adults as well as Smaller Slides in the Kids Area.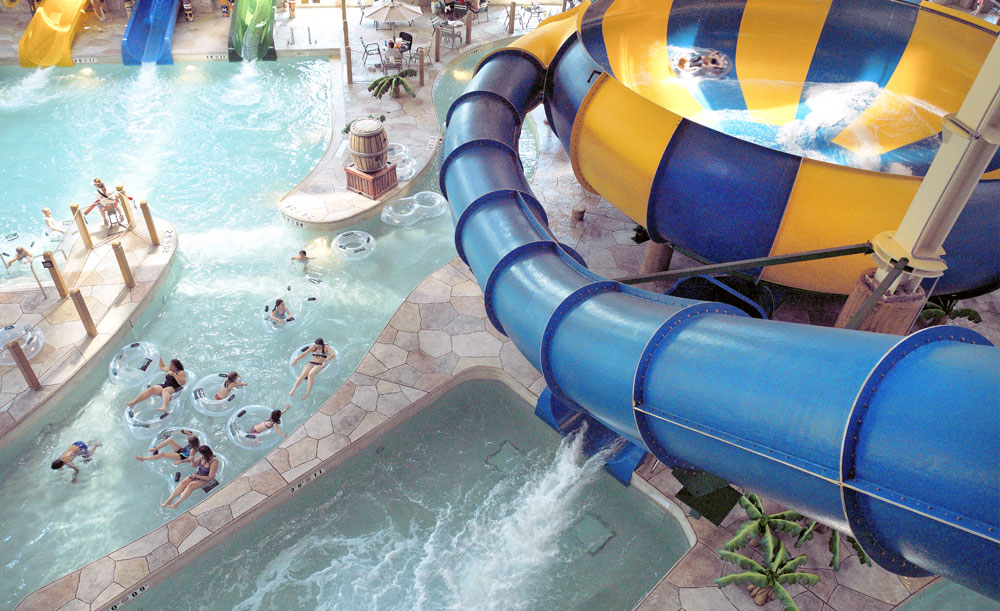 Height Requirement: 48″ Minimum

Weight Requirement: 400 lbs Max
Cayote Cannon
Start down this Bowl swirling adventure slide in an enclosed Tube. As you drop you start to see the light as you enter a large bowl where you go round and round and sloshed about until you get to the end where you drop down another section of tube to the splash zone.
Single and Double Rider Tubes
40 Foot Drop into the Bowl section
Fun ride with many different aspects (not your standard water slide)
Height Requirement: 48″ Minimum

Weight Requirement: 700 lbs Max
Storm Chaser
You will see the Massive funnel for this ride on the outside of the building and you might be a little intimidated by the idea of being sent careening back and forth inside of a tunnel but after you have done it the first time, you will want to go again. This slide starts in an enclosed section of tube, allowing a total of 4 guests per tube to join in on the fun. As you drop down into the 6 story funnel, you will be sent up one side and back to the other until you get to the base of the funnel where you will be dumped into the splash area of the park.
Up to 4 Guests in each Tube
Steep drops
Funnel sends your tube back and forth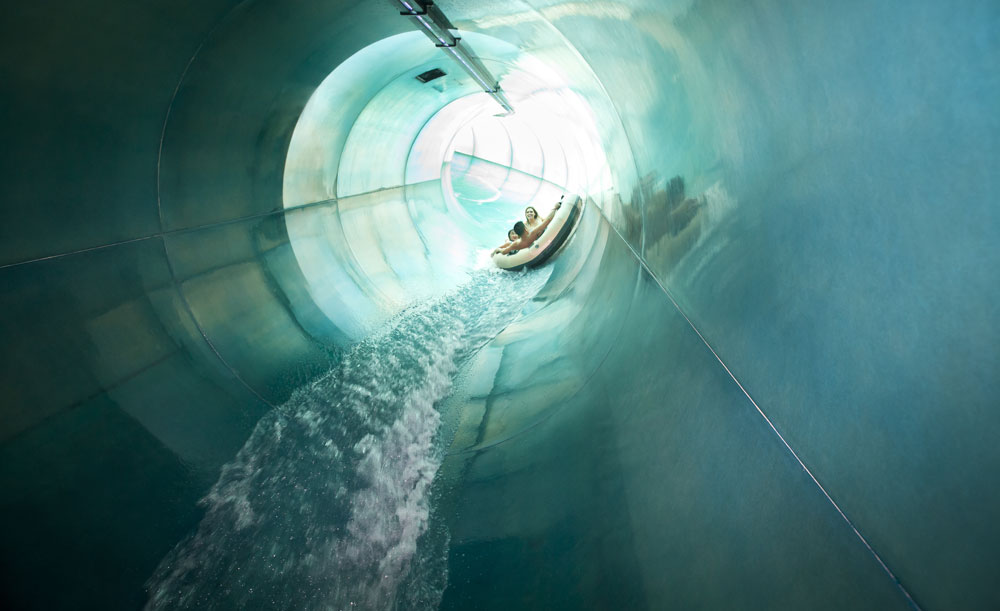 Height Requirement: 42″ w/Adult or 48″ alone

Weight Requirement: 800 lbs Max
River Canyon Run
This long 4 person raft ride is a long, twisting adventure that everyone in the family can partake in. There are drops along the way with unexpected splashes to keep you cool on the way down.
4 Guests per Tube
2, 3 or 4 Riders per raft
Lighted track leads the way to the Splash Down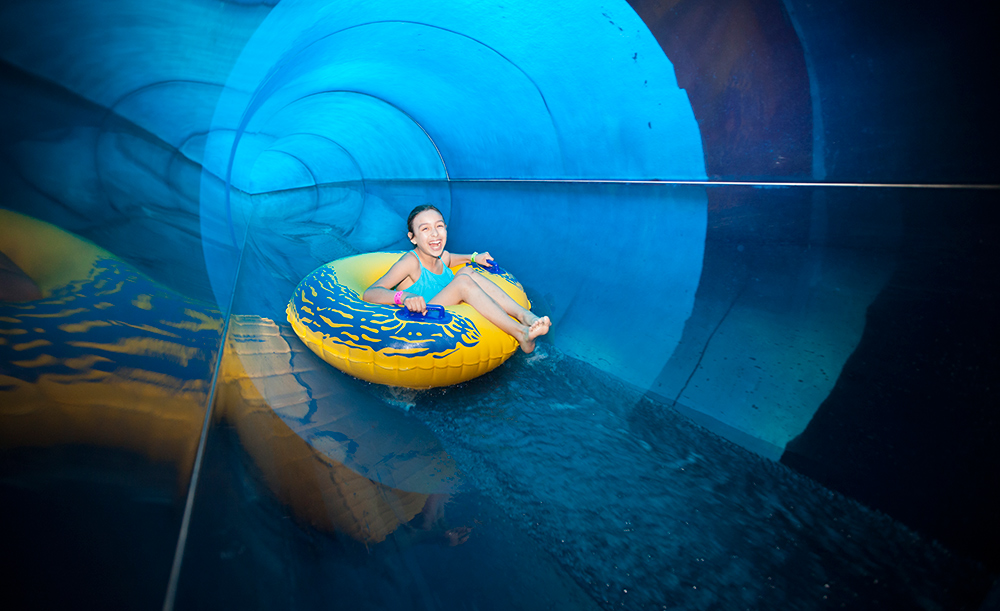 Height Requirement: 42″ w/Adult or 48″ alone

Weight Requirement: 400 lbs Max
Alberta Falls
A 1 or 2 person enclosed tube that starts 4 stories up. Experience thrilling drops while the slide takes you outside of the lodge and back in before entering the splash point.
1 and 2 Person Tubes available
Temperature remains the same inside or out
See the Kids Splash Park Tab for full information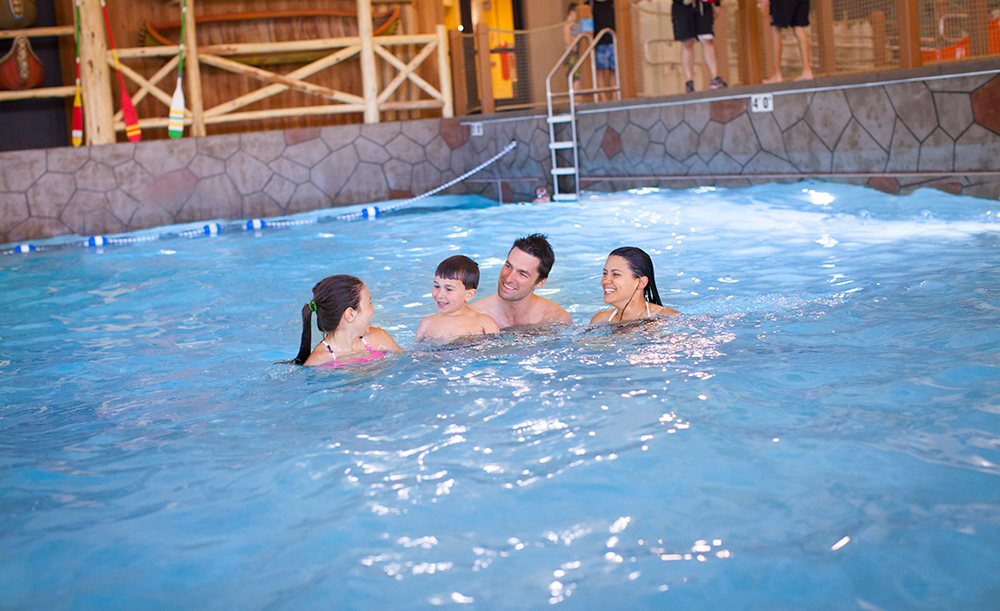 Height Requirement: None Listed

Weight Requirement: None Listed
The Great Wave
You don't see an Indoor Wave Pool just anywhere that you go. The Slap Tail Pond is a large area with waves that come about every 5 minutes. Having waves that are around 3 feet tall gives you the fun you want to bob up and down in the currents. The entrance to this pool is Zero-Entry so even the youngest children can play by the waters edge.
3 Foot Waves
Waves every few minutes
Waves will be cut off at times to allow for a nice pool area to enjoy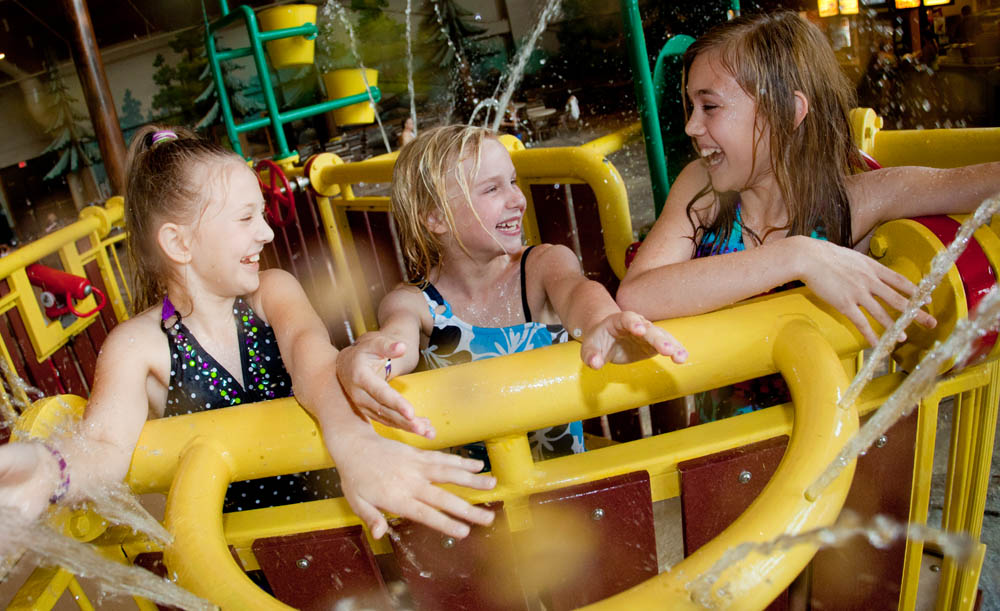 Height Requirement: None Listed

Weight Requirement: None Listed
Fort Mackenzie
This 4 story Fort of Water fun is great for the kids to enjoy while they climb and splash around this large kids tree house. The fun seems to never end with Cargo Nets, and bridges, as well as many fountains and cannons. There is no way that your kid will get bored here. This might be a little big for the toddler and below but everyone else will have a great time
1,000 Gallon Dumping Bucket of Fun
4 Story Fort
Water Cannons
Rope Bridge
Cargo Nets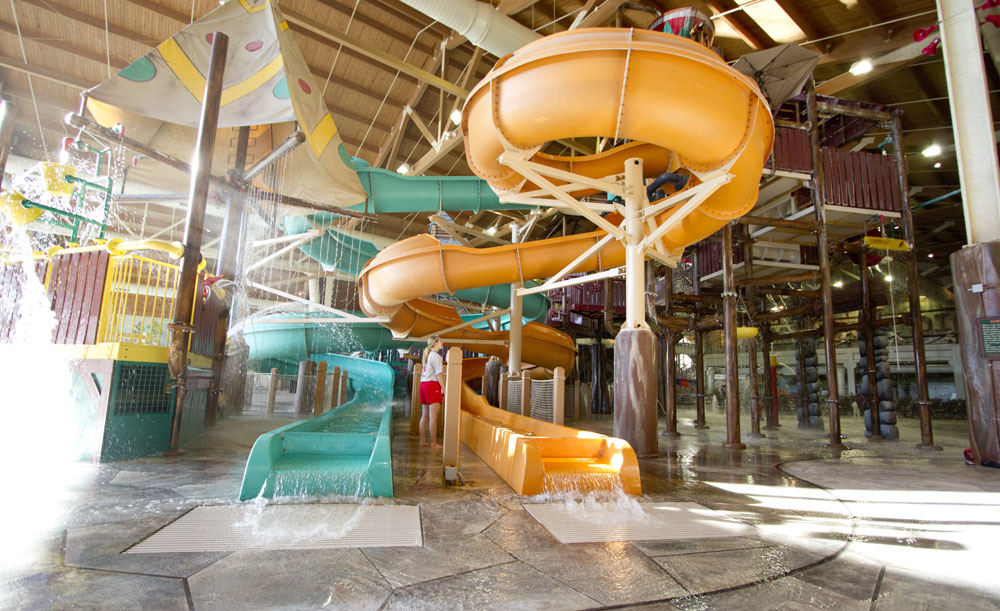 Height Requirement: under 42″ must be supervised

Weight Requirement: None Listed
Totem Towers
While climbing on Fort Mackenzie, you might just find yourself in a predicament where you need to get away quickly to avoid capture. As you are heading to the top of the 4 story structure, two 3-story Water Slides await your arrival. Get on one and slide your way out of the clutches.
2 Twisting Kids Water Slides
3-Stories Tall
Each slides ends safely at at the bottom of the Fort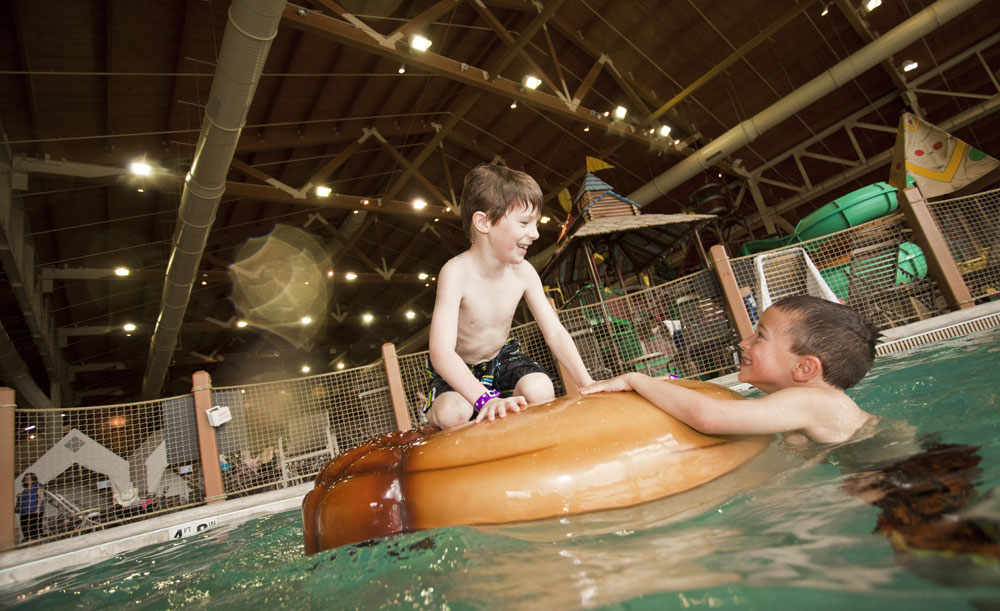 Height Requirement: None Listed

Weight Requirement: None Listed
Chinook Cove
A large pool area is set aside for the kids to have fun climbing on large floating objecs trying to balance without falling off into the pool. There is also a water basketball court for lots of hoop shooting fun while staying cool in the water.
Large Family Activity Pool
Water Basketball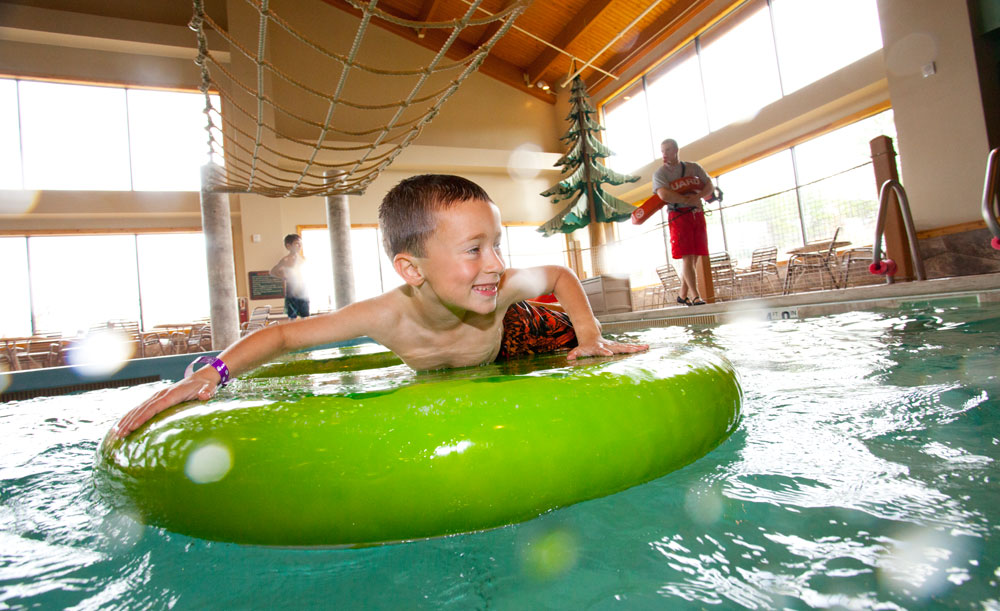 Height Requirement: None Listed

Weight Requirement: None Listed
Big Foot Pass
Try your hand (actually your feet) on the floating obstacles in the water, like Lilly pads and floating logs. There are ropes above to help steady you as you go across but it is still very difficult to tackle. Kids love playing here and if they fall, all they do is get wet.
Water Obstacles
Ropes to hold on to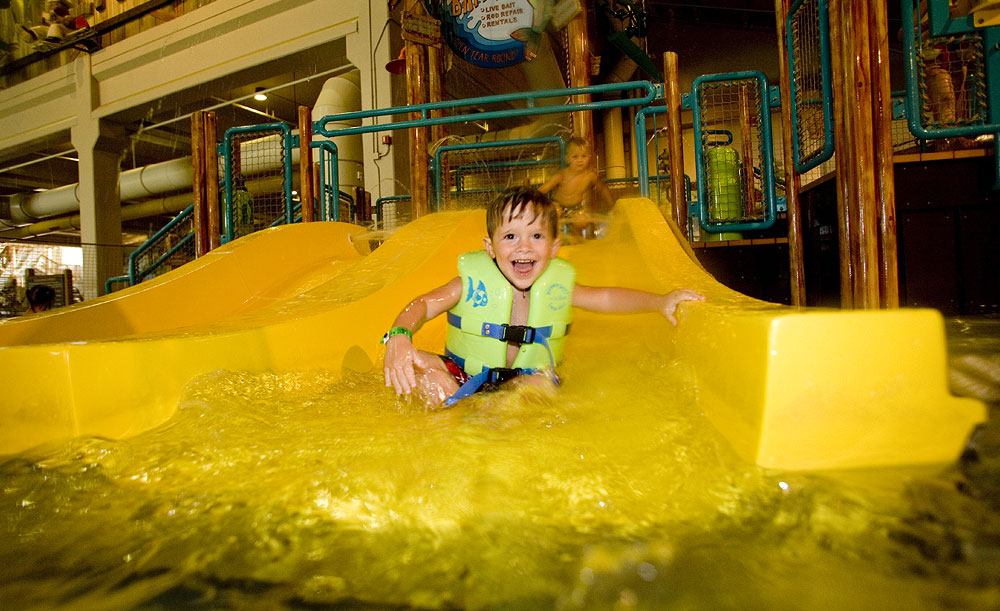 Height Requirement: Under 48″

Weight Requirement: None Listed
Whooping Hollow
The youngest ones will have a great time at the Whooping Hollow Kiddie Splash zone. Bubbling Water Fountains and playful Water Toys along with a couple of toddler slides makes this a favorite for your toddlers.
Shallow Water
Bubbling Water Fountains
Dual Toddler Slides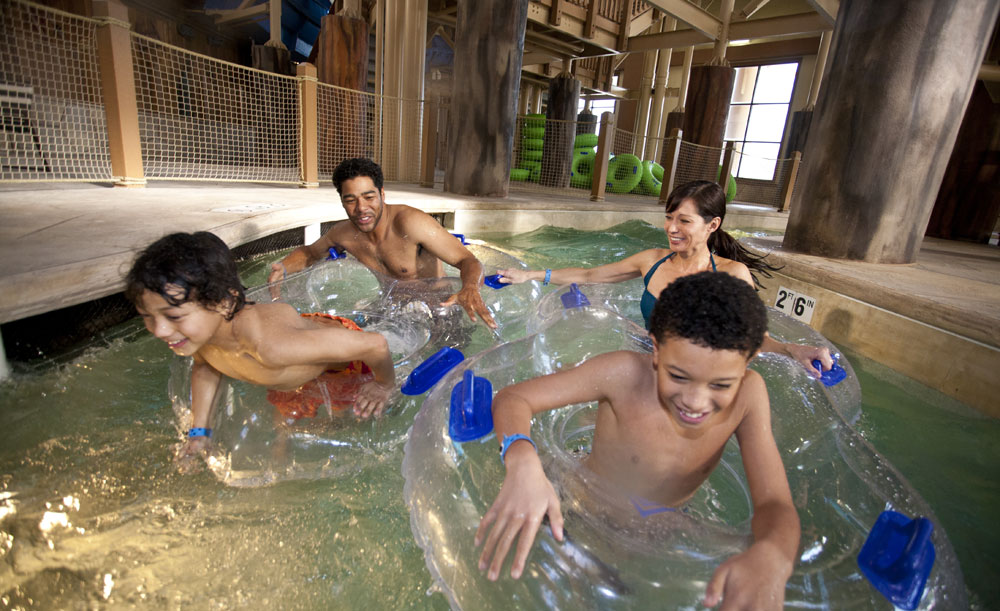 Height Requirement: None Listed

Weight Requirement: None Listed
Crooked Creek
Everyone likes a Lazy River, it is so inviting because of the peacefulness but it is also a ride the family can enjoy together. Take a tube or just float along this slow flowing river.
Spraying Fountains
Single Person Tubes available
RESERVATIONS
Great Wolf Lodge Grapevine