Gaylord Texan Water Park
Open only to guests of the Resort, the Gaylord Texan Water Park is a great place to play and relax with Water Park amenities. Appropriately named Paradise Springs, the Gaylord Texan Outdoor Water Park offers you an Oasis of fun. Stay for an entire day, lounge by the pool, and your kids will not run out of things to do all day long. Paradise Springs at Gaylord Texan is a 10 Acre Water Play Land and home to a large zero-entry swimming pool, 600-foot lazy river, and a 27-foot tall water slide. These are rides you will want to enjoy again and again. Your family will be so thrilled that you booked the Gaylord Texan. It will be something that they will remember fondly for many years to come.
Water Park Fun areas
Paradise Springs Water Park Information at Gaylord Texan:
Water Park Hours
Open Memorial Day to Labor Day
Some Weekends might be open prior and after these dates. Check with the Gaylord Texan for full information and Water Park dates when booking your stay.
Sunday – Thursday: 9 AM – 8 PM
Friday – Saturday: Daily 9 AM – 9 PM
* Park hours are subject to change without notice
Main Pool: The Main (Family) Pool is huge with 6,000 square feet of total space. Waterfalls, water basketball and zero-entry are just a few of the fun items located at this pool.
Indoor Pool: A large indoor pool is available to guests. This is great when it is chilly outside or if the weather is bad.
Large Water Slide: One (1) large, double figure 8 water slide at the main Pool.
Kids Water Slides: Three Smaller but still really nice water slides at the Kids Splash Park
Lazy River: Float along the 600-foot lazy river
Kids Splash Park: Shallow water, zero-entry fort area for the kids with sprinklers, bubbling fountains and plenty of interactive fun at the Children's splash area.
Zero-entry: Zero-entry access is available at the Kids Splash Park, Lazy River and the Lagoon Pool
Hot Tub: Located at the main lagoon pool are 2 horseshoe hot pools (as they are called). They are not quite hot tubs because they connect to the pool but they are very relaxing areas to sit at the pool
Towels: Towels are provided at the Water Park
Cabanas: Multiple types and styles of Cabanas are available for an additional fee. Be sure to book yours early.
Notice: Pool hours can change without notice. Always check the daily schedule at the Gaylord Texan for the updated hours to the pools and any events.
Who: The Pool are for all Guests at the Gaylord Texan
Lifeguards: Lifeguards are on duty around the sections of the water park
So many things to do
Maybe you just want to have a place to lay out in the sun while the kids are splashing around in the large 6,000 square foot lagoon. You will certainly be able to do this with all of the Lounge and Beach Chairs setup around the Park. Get to the Pool early and pick out just the right location where you can watch your little ones play while relaxing and reading a book if you like. On top of the Water Features at Paradise Springs, there are also some fun dry games to be had as well. Some of the great family games you can enjoy include a Bocce Ball Court, Shuffleboard, and even Croquet.
Paradise Springs Location
The Outdoor Water Park at the Gaylord Texan is not located at the same place as the accommodations. If you drive in on the Gaylord Trail, you will pass by it on your right on the way up to the main resort building. The Water Park itself is about 0.9 miles from the main resort. There is parking at the Water Park but most of the guests prefer to take the complimentary shuttle that is offered to the resort guests. The shuttle comes through every 20 minutes during the week but on the busier weekends, you can catch it every 10 – 15 minutes.
Paradise Springs Water Park
Large, Twisting Water Slide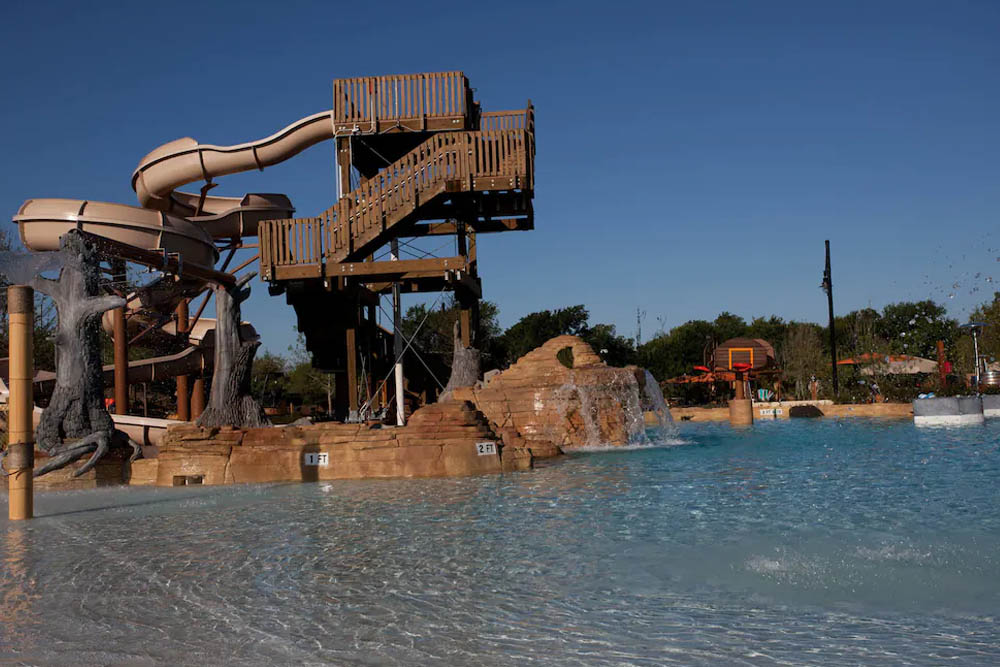 Height Requirement: 48″ Minimum

Weight Requirement: Not Listed
You will actually find four (4) water slides at the Gaylord Texan. The largest slide is at the lagoon pool. The other three can be found at the kids splash park on the other side of the water park. Climb the tower up 27 feet to the starting point and make your way twisting through two figure 8 curves before you dump into a sectioned off cove in the pool. It is so much fun that you will want to head back up and do it over and over.
---
600-Foot Lazy River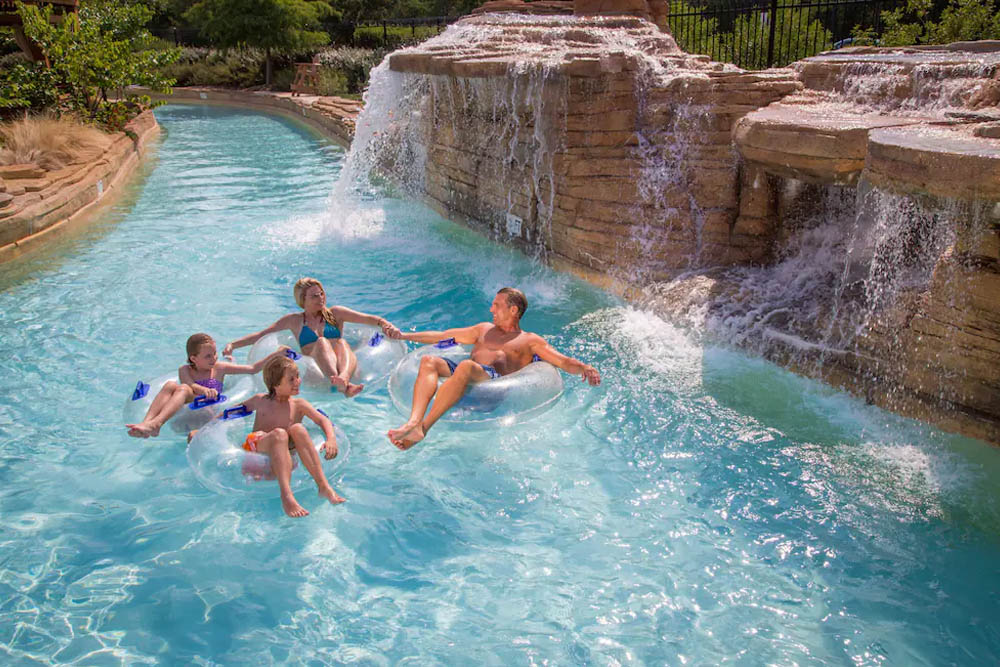 Height Requirement: None Listed

Weight Requirement: None Listed
Make your way across th bridge that carries you over the Lazy River and on to the secluded island with amazing seating and covered spaces. Enter the 600-foot lazy river from the zero-entry point and relax as you float around enjoying the views that surround you.
---
Large Outdoor Pool and Play area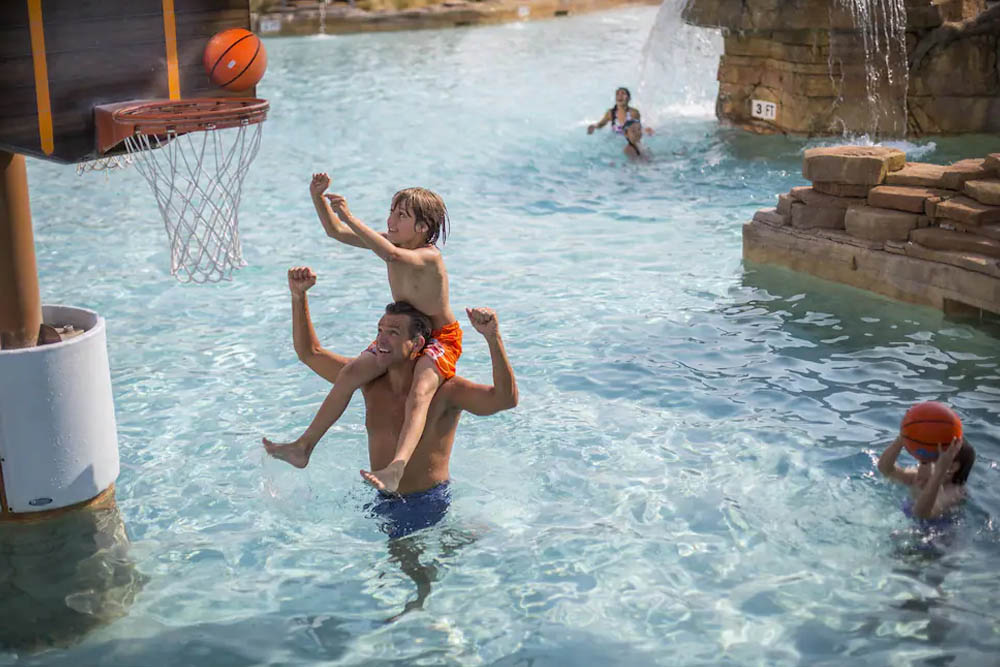 Height Requirement: None Listed

Weight Requirement: None Listed
A Massive 6000 Square feet of Water Splashing fun awaits with Water Falls, a Zero Entry area, Water Basketball and plenty of seating. Cabanas are also located around the main pool area and a bar awaits your orders through the day.
6000 Sq Ft of Fun
Water Basketball
Zero Entry
---
Kids Splash Park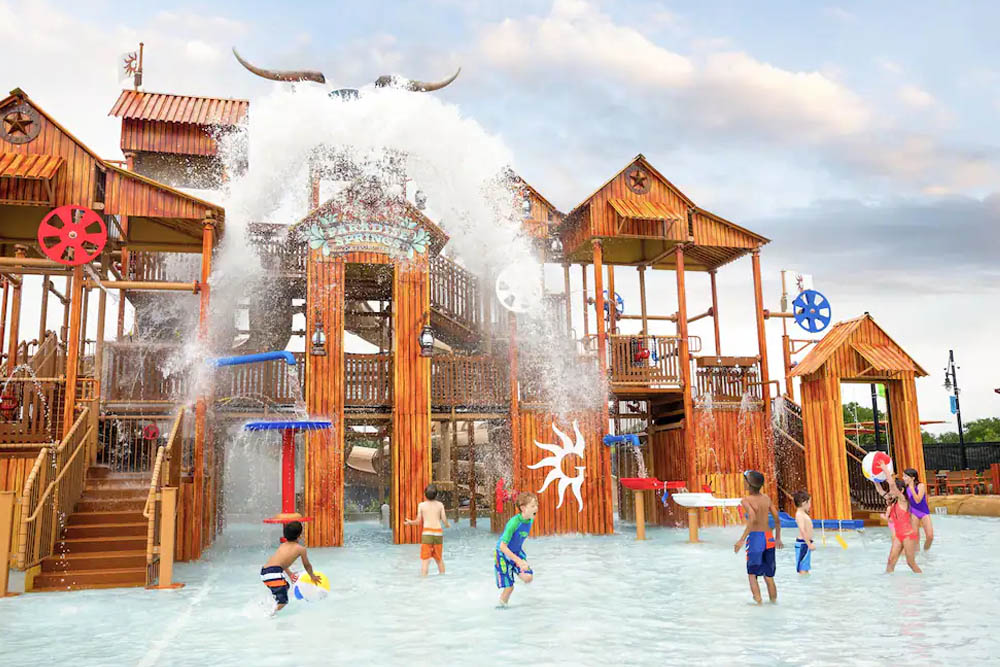 Your kids are going to have an amazing time at the kids splash park at the Gaylord Texan. A huge fort to climb and play, zero-entry and shallow water make this a much more fun space for kids. Add in the 3 water slides, and your kids will not want to go anywhere else.
6000 Sq Ft of Fun
Water Basketball
Zero Entry
---
Cabanas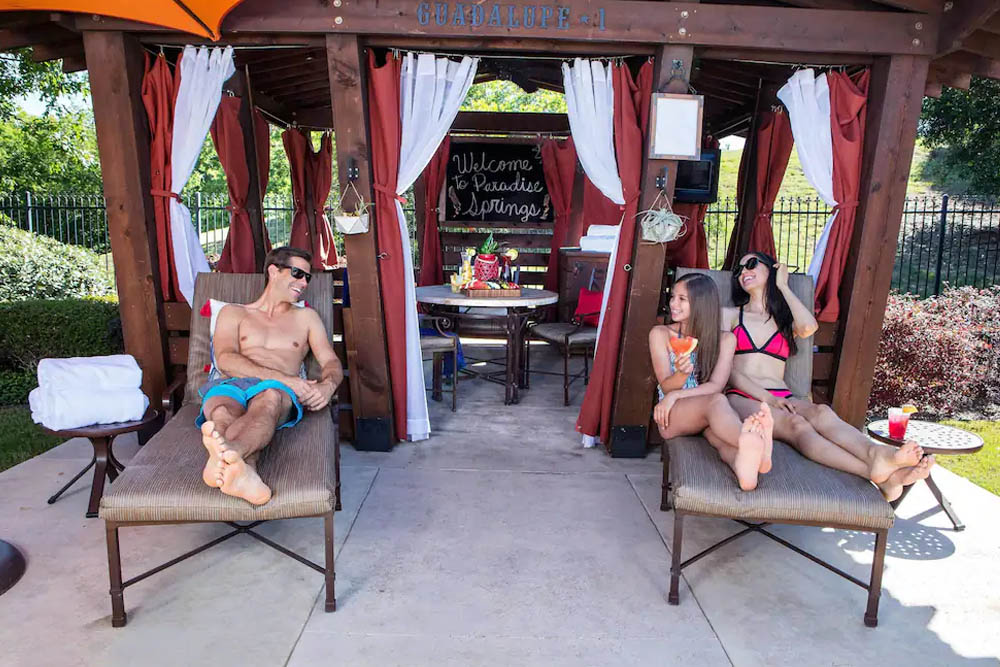 Add your very own private space away from everyone else in a Cabana rental. There are a few cabanas for rent around the water park at the Gaylord Texan. Cabanas go fast so be sure to rent one early.
---
Indoor Pool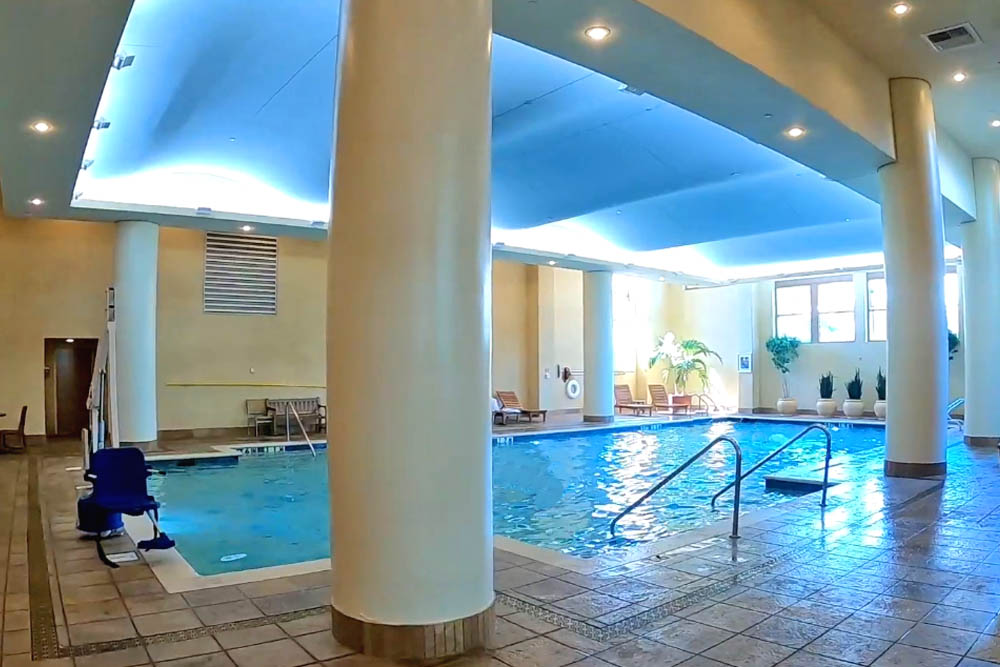 Having an indoor pool is wonderful for days you want to get out of the hot Texas sun or bad weather. Enjoy the indoor pool at the Gaylord Texan.
RESERVATIONS
Gaylord Texan Resort Grapevine