The W Dallas Victory Hotel
The W Dallas Hotel is a 4-Star hotel located in the Uptown section of Dallas. Staying in one of the rooms or suites at the W Dallas ensures you are at a very trendy, luxurious hotel. At night, the W Dallas really stands out. At 33 stories with a glowing blue light on the very top of the building, you can see it at night towering into the Uptown skyline. Guests who stay here talk about how pampered and well taken care of they are, from the wonderful service to the clean, comfortable rooms. The décor is extremely modern. There is also a whimsical part of the décor that includes cowboys, horses, and cows in the lobby. Wake up in the morning and start your day at the 24/7 FIT gym or book a day at the AWAY spa and relax while being perfectly pampered. The pool on the 16th floor is a "must-do" when visiting the W Dallas. Head up to the 16th floor and lounge around this infinity pool while taking in the spectacular views of the city of Dallas around you.
Rooms at the Dallas W Victory
Rooms at the W Dallas are large. Even the more standard rooms like the Wonderful, Spectacular, Mega, and Fabulous offer guests 414 square feet of living space. Each standard room comes in a configuration with two (2) queen beds or a single king. Beds are extremely comfortable with plenty of pillows when you are ready to drift off to sleep. Dallas shines through in every room, with hints of Texas everywhere. Views get better as you move up on the higher-level floors. The best views for a standard room would be in the Spectacular and Mega. Located on the exclusive third floor are the Fabulous rooms with amazing outdoor decks.
Suites
Living in true style, the Dallas W Hotel Suites are just amazing. These large and welcoming spaces offer plenty of room to spread out with an added living area complete with a stylish sofa and entertainment area. Views get better as you move up to booking a suite. The Corner Suite is like a studio with the bed and living rooms sharing the same space. But the views are just amazing, with floor-to-ceiling windows on two full walls. The Fantastic, Marvelous, Wow, and Extreme suites are all one-bedroom suites at the W Dallas, with the Extreme Suite being the largest, 1,323 sq ft on the 15th floor.
The W Dallas Victory Reviews
PROS
Pros:
The location is perfect if you are attending an event at the American Airlines Center. Victory W Dallas is right across the street. Staff and service are mentioned many times as being wonderful and accommodating. Some of the rooms have a separate shower and tub. The rooms are very large with amazing views of Dallas.
CONS
Cons:
There are also some [TripAdvisor_Link] that are a little less than stellar as well. Be sure to look at the latest guest reviews when visiting. A few guests did not feel that the hotel staff was as friendly as they should be in a 4-Star hotel. There were also some mentions of how strange the open bathrooms are with a curtain between the living space and the bathroom.
Deep Soaking Tubs and Rainforest Showers add to a Romantic Stay
Although there are no Jacuzzi Suites at the Dallas W Victory, there are several room types with Deep Soaking Tubs. Be careful, and make sure you book the right room, because most other rooms have only modern showers with rainfall showerheads. The modern rainfall showers are extremely unique and relaxing and will be included in some rooms with the deep soaking tub. If you want the best rate you can possibly get, you might want to check with Expedia and look for the Spectacular QQ (2 queen beds). The Spectacular Room type will be on floors 8 to 14. The 2 Queen layout is the only way to get the best rate and have a deep soaking tub. You will have downtown views and they are about 414 sq. ft. The rainforest showers are amazing, but be aware that there will be no privacy between that and the bedroom – it's extremely trendy and modern. If you are okay with that, go for it! You will be treated like a king or queen here!
Suites with Deep Soaking Tubs
You might think you could find an in-room Jacuzzi tub in one of the Suites at the Victory W Dallas, but that is not the case. Some of the Suites do come with a deep soaking tub though. When you are in the mood to just take a relaxing bath, or you are having a romantic getaway, consider booking a suite with a Deep Soaking Tub. Not all of the suites offer this amenity, but here are the ones that do:
Cool Corner Suite
Wow Suite
Extreme Suite
No matter which suite you book, it will make for a memorable stay in Uptown Dallas.
Fun Stuff To Do Nearby
The W Dallas Victory is nearby the American Airlines Center, Uptown, Downtown, Turtle Creek, and the Design District. Guests will marvel at the nearby Highland Park Village featuring Escada, Chanel, and Hermes. The Historic West End is a short distance from Katy Trail and the Arts District. This 33-story property features the popular Tom Colicchio's Craft restaurant, the WIRED Business Center, and SWEAT Fitness.
Ask For:
The Spectacular Double Queen Room
Make sure you choose the Spectacular QQ (2 Queen Bed Option), or you may not have a deep soaking tub. This room is about 414 Sq. Ft. It has a 32" Flat Screen TV. You'll have lovely, comfy, and cozy 2 Queen Featherbeds to sleep on! The rooms are on floors 8 to 14. You'll also have downtown views. The bathroom is standard-like but with a deep soaking tub.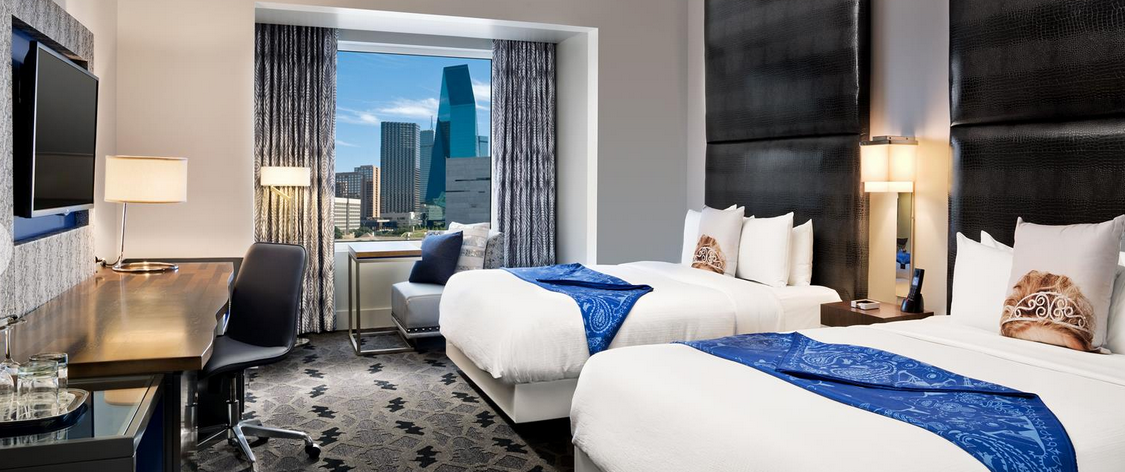 Other Hotel Amenities Include:
✔ No Smoking Property
✔ WiFi in Rooms (Additional cost per Day)
✔ Book Online with No Booking Fees
✔ Request Fridges Upon Check-in
✔ Breakfast (Additional)
✔ Free Wi-Fi (Some Public Places)
✔ 1 Bar and a Pool WET Deck Bar
✔ 1 Restaurant
✔ Fitness Center Overlooking Downtown Dallas
✔ Valet Parking Only (Daily Fee)
Bliss Spa at W Hotel Dallas
5100 Sq. Ft.
Steam Showers
Facials
Body Treatments
Massage
Waxing
Manis and Pedis
Men's Spa Services
Amazing Skyline Views
9 Treatment Rooms
Exfoliation
Oxygenation
Aromatic Steam Room
Sauna
Showers
Locker Rooms
What is the W Hotel Dallas Pet Policy?
You can have up to 2 pets. Each pet needs can only go up to 50 lbs. There is an additional room charge and a Non-refundable cleaning fee per pet. Once you make your reservation, just contact the front desk with your reservation number to let them know you are bringing your pet – they will charge you the pet fees once you are check-in. The Victory W Dallas Hotel also provides you with amenities such as dog walking, treats, a pet-friendly magazine, and a pet bed!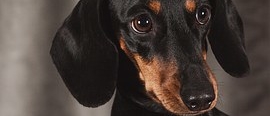 Pets are Allowed
Non-refundable Cleaning Fee and Per Stay Fee
Up to 50 lbs per pet
Up to two (2) pets per room
Dog Walking
Treats
✔ How do I make sure I get a Pet Friendly Room at the W Hotel Dallas?
Contact Hotel and Provide them with your confirmation number
Advise them of Your Pet
Hotel will charge you the additional fees upon check-in
Please check with the W Dallas Victory for any updates to the latest Pet Policy.
All Pricing/Details subject to change, however accurate when published.
Answers and Info About the W Hotel Dallas Infinity/Rooftop Pool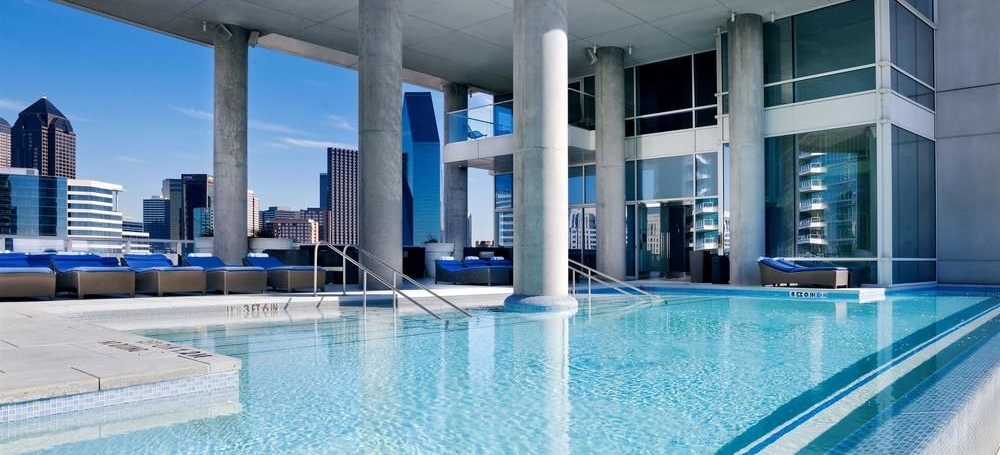 Food and Cocktails Available
16th Floor
Seasonal and Open from Dawn til Dusk
Hotel Guests and Residents Only
4 Ft.
No Smoking
Guests Report Seeing High Profile People and Celebrities
Heated
Panoramic Views of Dallas
All Pricing/Details subject to change, however accurate when published.
Dining at the W Hotel Dallas

Cook Hall is the only restaurant at the W Hotel Dallas in Victory Park.
American Cuisine
$11 to $30
6am to 10pm
Casual and Trendy
Full Bar Available
Free WiFi
Free Valet Parking
Dark Wood and Unique Chandeliers
People complain about the small portions.
Living Room Bar
The Living Room Bar at the W Hotel Dallas is an awesome bar (and big). However, they offer a full bar menu and only light fare.

Bar Menu and Light Fare
There is a Terrace
6am to 2am
Casual Attire
Valet Parking Available
Free WiFi
Huge Chandeliers
Sleek and Comfy All in One
All Pricing/Details subject to change, however accurate when published.

Frequently Asked Questions: The W Hotel Dallas
What is the W Hotel Dallas Parking Situation?
Parking at the W Hotel Dallas consists of Valet only. A daily parking fee will be added to your overall bill at the end of your stay.
---
Is the W Hotel Dallas Ghostbar closed?
Yes. It closed back in 2012.
---
Is the W Hotel Dallas Gym very big?
The Gym at the W Hotel Dallas Victory is state of the art. It's 3,000 sq ft and fully-equipped
---
Is the W Hotel Dallas Pool Open to the Public?
Technically, no. The W has a pool bar called the WET Deck. In the past, this has been open to the public on Wednesdays from 6 pm to 10 pm for "Wine Down." The WET Deck has also had several events lined up during the summer that require swimming attire and cost for the general public to enter but are free to hotel guests and residents. However, The WET Deck states they are only open to hotel guests and residents. If you are visiting the W Dallas Victory for Spa services, you will also have access to the rooftop pool during your visit.
---
Is there a W Hotel Dallas Airport Shuttle?
No. Taxis from Love Field are are an option. If you are coming from DFW you'll have to either rent a car, take the Super Shuttle, grab a taxi or call an Uber. 360Limo charges per direction, but you have to make reservations ahead of time. They can be reached at 214-348-9898.
RESERVATIONS
The W Dallas Victory