Holiday Inn Express DFW Airport Grapevine
In close proximity to the DFW Airport, the Holiday Inn Express DFW Airport Grapevine Hotel offers a clean, comfortable stay for business and leisure travelers. Guests will enjoy staying in rooms and suites that offer a 100% smoke-free environment. Complimentary shuttle service is provided to and from the DFW airport and makes your travel more convenient. Breakfast is free every morning of your stay to get you off to a good start. WiFi is also included for free along with a business center that is open 7 days a week, 24 hours a day.
All Pricing/Details subject to change, however accurate when published.
Rooms and Suites
When reading through the Holiday Inn Express DFW Airport Grapevine TripAdvisor Reviews , many of the guests mention that the rooms are clean and comfortable. Multiple room configurations are available as well. The least expensive room is typically the Standard Room with 2 Queen Beds or a Single King with Sleeper Sofa. If you are looking for some additional space, you can book one of the suites. Suite options include a 2 Queen Bed Suite with Sofabed or a 1 King Bed Suites with Sleeper Sofa. All of the rooms offer free breakfast and WiFi access and also come with a desk and flat-screen tv.
Holiday Inn Express DFW Airport Grapevine Reviews
PROS
Pros:
Many of the guests enjoy staying at the Holiday Inn Express near the DFW Airport simply because they have a nice clean room, the staff seems to be friendly and it has a free Shuttle Service. It is also mentioned that the pool is nice and having a hot tub is a plus. Starting out each day with a quick breakfast is always a good way to begin. The highway system is very close as well and makes it easy to get anywhere around the Dallas area. If you are looking for something to eat, a quick drive down S Main Street will provide many different dining options.
CONS
Cons:
While most of the reviews are positive, there are also some that fall in the average and below avg. Be sure to take a look at the most recent reviews when booking any hotel. Some guests mentioned that they did not think the room was cleaned as well as it should have been. A few also made mention of the DFW shuttle and said that it runs in the morning. Be sure to check with the hotel about the shuttle service when booking your flight.
Romantic Stay – Suite with Jetted Tub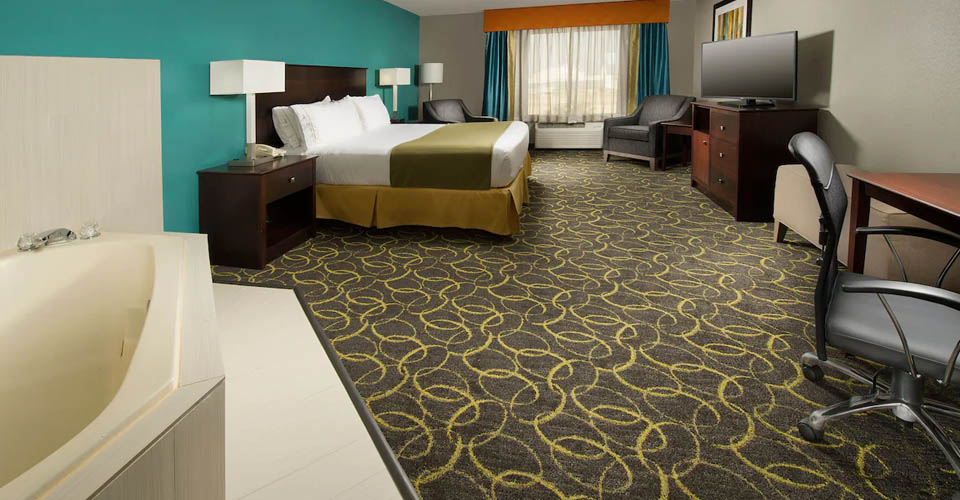 Are you looking for a nice romantic room? The King Bed Suite with Jetted Tub could be the answer. Be sure to ask for the 1 King Bed Suite Jetted Tub when booking your reservation. This room gives you extra space to move around plus a large 2 person hot tub in the corner of the suite.
Fun Things to Do
Guests can enjoy time by the outdoor pool, relaxing on lounge chairs, or sitting at chairs around a table. A small kids' pool is located beside the main pool. Adults will like having a hot tub to relax in while the kids are playing in the pool areas.
Pets
Pets are not allowed at the Holiday Inn Express DFW Airport Grapevine. Service animals are welcome.
Parking
Self-Parking is included with your reservation of any room or suite. Accessible parking is also available.
Fitness Center
Starting your day off with a good workout is so important to many guests. The fitness room is available to all guests staying at the Holiday Inn Express DFW Airport Grapevine.
Laundry
If laundry is needed, laundry and dry-cleaning services are provided.
Dining
A hot and cold breakfast is included with your stay with omelets, bacon, pancakes as well as many different breads, coffee, and juice.
Business & Event Spaces
If you need some meeting space or a place to set up a classroom to do some training, the Holiday Inn Express in Grapevine has a nice room for this purpose. There is also a business center with computers for access to the Internet if needed.
RESERVATIONS
Holiday Inn Express DFW Airport Grapevine