When I think of the Belmont Hotel Dallas Tx many things come to mind: Non-smoking, Unique 1940's lodge revamped into Hipster and Chicness, Dallas Skyline, Courtyards, Fun, Charming, Salt Water Pool, Retro Modern Suites with 2 different kinds of in room Soaking Tubs; Terrace Suite with Soaking Tub and Outdoor private Hot Tub.
Suite, 1 King Bed (600 Sq Ft)
These non-smoking rooms come with 1 King Bed and can accommodate up to 2 guests. There will be one of two different Deep Soaking Tubs:
The Tub in the Bathroom of King Room Suite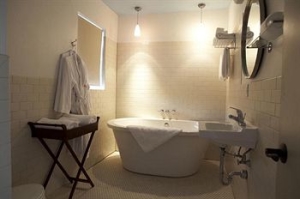 If you book the 1 King Suite you will get one of 2 soaking tubs. This one (in the bathroom of the suite) or the one below (in the room where you sleep). Both rooms will have city views and a King Bed in the private bedroom. The tub is the main difference. Both rooms have city views and may or may not have a wet bar, balcony adjacent to the pool area (depending on availability). After you book this suite, the hotel says you can call them no sooner than 72 hours prior to arrival to tell them which you prefer.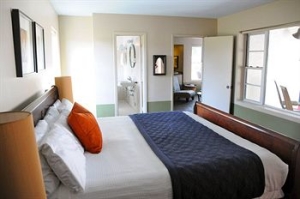 King Bed Suite Quick Facts: Non-Smoking (No Smoking Property); Free Wi-Fi; Room Service; Lather Toiletries; Outdoor Pool; Self Parking ($5 Daily); Valet Parking ($15 Nightly); Bar; Dining at the Smoke Restaurant; Mini Fridge; Health Club: Concierge. King Bed Suite Bath Amenities: Deep Soaking Tubs; Designer Toiletries; Hair Dryer
The Tub in the Actual Room of the King Suite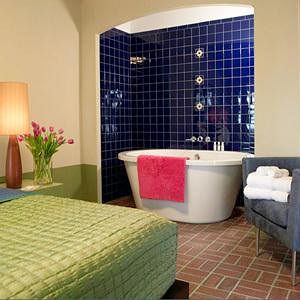 Here's the tub scoop on this one: From the king bed you will notice the pretty royal blue tiles placed high. They kind of backsplash the soaking tub. The contrast definitely compliments the entire room. I am typically not a fan of exposing a tub in the midst of a hotel room, be it for Jacuzzi or soaking purposes. But this is the hotel I would reserve something like this just because it's different. And, again very quaint.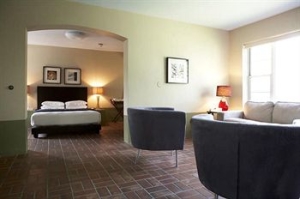 Neither tub comes with jets, though. If you are looking for the soothing jets you might want to try the attractive Ashton Hotel in Fort Worth with In Room Jacuzzi Tubs. On the other hand, if you are looking for a romantic, quaint place to soak in a large tub, you might not mind it especially, because it's affordable and the downtown Dallas views are great surrounding the property. If you want to splurge you could do the Terrace Suite with an indoor soaking tub PLUS an outdoor hot tub on the terrace.
Belmont Dallas Suites
The Belmont Hotel Dallas designed the suites cleverly, though. There is even a "Terrace Suite" with a large soaking tub here with 1000 square feet of space. As you would expect it comes with a large outdoor terrace with a hot tub. I must say I like it. Other room amenities include a design that is pretty minimal and modern. There is a king bed along with a separate living area. You will enjoy the city views in these rooms and a flat-screen TV with free Wi-Fi. There are a variety of suites here. The soaking tubs should be requested. The property provides $15 per night valet parking or free self-parking. The 8 am to 8 pm shuttle provides you with transportation within a 3-mile radius. These rooms and suites at the Hotel Belmont Dallas are all nonsmoking.
Tips and perks before booking the in-room soaking tubs at the Belmont Dallas TX
Soaking Tubs are limited here. There are different suites with soaking tubs. The Terrace suites are bigger and also have a hot tub out on the outdoor terrace that overlooks downtown. The second floor provides you with an unobstructed view of the city. The Rooms in the main busy tend to be noisy. Porch rooms 50 through 59 have a really cool view of downtown Dallas. When staying in the main hotel ask for the "quiet area". The Belmont Hotel Bar Dallas Tx has an awesome view and has an open-air type of feel. The hours are from 3 pm to 11 pm on Sundays through Wednesdays, until midnight on Thursdays, and until 1 am on Fridays and Saturdays. There is a lobby lounge or outdoor terrace to choose from. Enjoy art openings and tarot card readers at the Belmont Bar Dallas.
Be aware: Rooms near the bar are extremely noisy from patrons and entertainment. The bungalows at this hotel do not come with a soaking tub but are away from the busy lobby and surround a nice courtyard. Their rooms here come in various different buildings. Be sure to ask for an updated building. Some rooms will have an obstructed view of the city. There are detached buildings closer to the pool that are less noisy. This hotel is more on the "hip" side and may not be for everyone.
Onsite at the Belmont Dallas Tx: self parking for $5 nightly, dining for a charge, valet parking for a charge, Bar Belmont, Smoke Restaurant, flat screen TV's, outdoor salt water pool, health club open to the public, historic, free Internet in the rooms and anywhere on grounds.
You Should Know
Suite Room In Room Large Soaking Tub
There are some 600 square foot suites that have the large soaking tub and some 1000 square foot Terrace Suites that have the large soaking tub AND hot tub out on the terrace. These tubs are big enough for 2.
No Airport Transportation Available
DFW is 21 miles and will take approximately 30 minutes of driving depending on traffic
21
There are some balconies available
Check in time is 3pm
Check out is 12pm
Complimentary WiFi , Wired and wireless available (rates vary and are subject to change)
No ATM
Laundry facilities and dry cleaning available
2.3 Miles from Reunion Tower
1.8 Miles from Kessler Theater
1.8 Miles Dealey Plaza
1.9 Miles from Sixth Floor Museum Shop
Complimentary self-parking (subject to change)
$15 per day for Valet Parking (subject to change)
No Resort Fee, although subject to change
Pets allowed (1 per room; call front desk for possible fees)
Please note that pet information was accurate at the time of this publication but are subject to change. Always check with the property directly when making the decision to bring your 4 legged friend or service pet as there may be an additional cost.
This is a non-smoking policy in all rooms
All information including pricing and amenities was accurate when published and is subject to change. Please check with the hotel directly regarding up to date pricing and amenities
Freebies
Internet
Shuttle within 3 mile radius
Self Parking
Cribs
Property Perks
600 square foot Suites and Terrace Suites with in room Soaking Tub for 2 (Terrace Suites come with an outdoor hot tub as well)
Climate Control Rooms
Premium Bedding
Extra Towels
In room Large Soaking Tub Suite Perks
In Room 2 Person large soaking tub (some 600 Sq Ft Suites and some 1000 Sq Ft Suites)
Internet
Flat Screen TV's
Modern Design
Some with Balconies
Please note the information and fees provided can change without notice, however, was accurate when published. To confirm all details you will need to check directly with the properties in question before completing your vacation planning.
RESERVATIONS
The Belmont Dallas