Westin Dallas Park Central
Located in a great location, just minutes from Downtown Dallas, the Westin Dallas Park Central is a 4-Star Hotel with great amenities. Take some time to visit Galleria Dallas, where you will find wonderful attractions and premier shopping. Join in the fun and relaxation at the rooftop pool with plenty of lounge chairs and an amazing sundeck. Take time out of your day to stop by the WestinWORKOUT® Fitness center, where you can work out with the latest in Cardio Equipment or Free Weights. Covered self-parking is not free but is available during your stay, or let the Valet take care of your car for you.
Near
Galleria Dallas – 4 Miles
Museum of Biblical Art – 4.2 Miles
NorthPark Center – 4.3 Miles
Plaza at Preston Center – 6.1 Miles
George W Bush Presidential Library and Museum – 6.1 Miles
Room and Suites at the Westin Central Park Dallas
The rooms at the Park Central Westin are clean, and the beds are very comfortable. Multiple pillows are available on each bed to sink yourself into at the end of your day. The Standard rooms come in a configuration with 1 King Bed or 2 Double Beds. The King room can sleep up to 3 guests, while the double bedrooms can sleep four (4). For some additional space, the Studio Suite is about 50 sq ft larger than the other rooms. No matter what room or suite you book at the Westin Park Central in Dallas, you get 24-hour room service, free WiFi, and Daily Housekeeping.
PLEASE NOTE: Jacuzzi Suites Are No Longer Available at the Westin Dallas Park Central.
It's a shame they got rid of the Jacuzzi Suite at the Westin Dallas Park Central Hotel. It was really nice. If you are looking for a nice hotel with a jetted tub in your room, you might consider a comparable alternative option such as a Highland Dallas Suite with Jetted Soaking Tubs. Just ask for the King Spa Room, 1 King Bed 1 Bedroom Suite or 1 King Bed, 1 Bedroom Superior Suite. In fact, the Highland Dallas is just 9 miles away from the Galleria Dallas.
The Westin Park Central Dallas Reviews
PROS
Pros:
As you can see from the Review bars, the Westin Dallas Central Park is liked by most guests. The staff is mentioned as being friendly and attentive, and the breakfast is very nice. The rooms and suites are very comfortable and well kept. Take some time and head up to the rooftop pool and enjoy being outdoors above the cityscape of Dallas. A large sundeck is a great place to relax and read.
CONS
Cons:
A few guests had a few things they did not care for, but there are not many of these reviews. However, it is worth your time to look at the latest reviews before booking your stay at any hotel. There are some additional charges to be aware of. If you are driving in, a nightly fee will be charged for self-parking and valet. Breakfast is nice but it is not free and some think it is a bit pricey.
Heavenly Bath System
Let's take a closer look at the Westin Dallas Park Central heavenly shower system. It is pretty cool. Looking at the picture below, you see the shower system in the walk-in shower unit.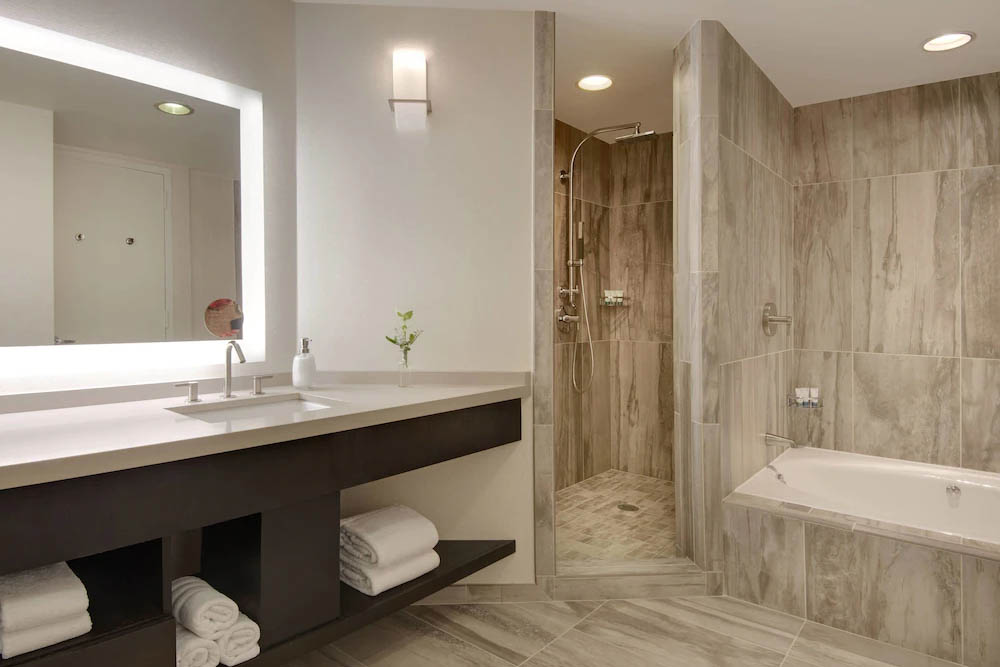 Westin hotels are actually known for their "Heavenly Baths and Heavenly Bedding." People can buy these "Heavenly items" at the online Westin Store. That said, lots of people talk about how nice and "heavenly" the showers are, and when getting back home, they will order one for their own bath. It's a very pampering experience. All rooms at this hotel will have a heavenly shower system. If you are thinking about giving it a try, you could always check on refundable rates and cancel it out with no penalty if you change your mind.
Some things to know about your stay
Another cool thing is if you book a Club Level Suite you will get access to the Westin Executive Club Lounge. The Club Lounge has snacks, drinks, and preferred service for club-level guests.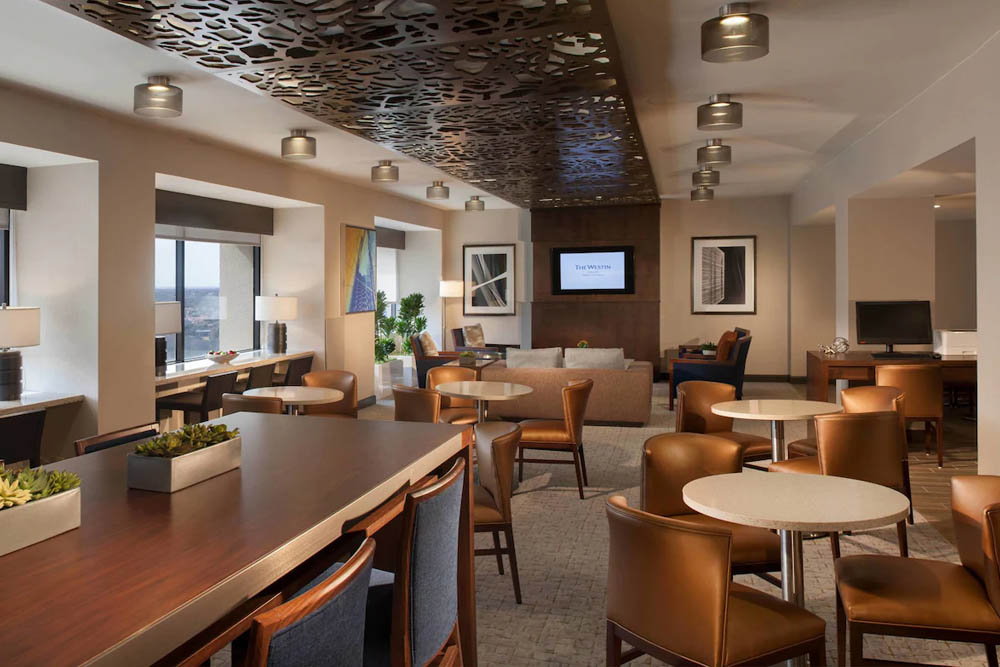 As you take a look at the Executive Club Lounge, you notice that it is a pretty upscale place. Great seating area in a more private, inclusive setting.
Even if you don't choose a room that gives you access to the club lounge, the Dallas Central Park Westin, in general, is full of luxury and style. Booking one of the suites, places you on the highest floors. Being on the top floors gives you the best views and the quietest spots to relax and sleep. Luxurious master baths in the suites provide dual shower heads (heavenly bath systems), bathrobes that are super plush, and the convenience of dual vanities.
The master bedroom includes the typical Westin Heavenly Bed comfortable bedding on a king-size bed. Regardless, there are always alternative options – so make yourself at home.
Other hotel features include:
Personal spa service in the privacy of your own room
Yoga and Calisthenics
3-mile, 3-day-a-week running program led by Westin.
Pets
Pets are allowed at the Westin Park Central Hotel in Dallas. There is an additional fee charged per pet / per night. Service animals are also welcome.
Up to 2 pets per room (Dogs Only)
Up to 40 pounds
Fee charged per pet / per night
Food and water bowls available
Special pet area at the hotel
Must pick-up after your pet
Please check with the hotel for availability when booking. Also, this information was correct when added. For the latest Pet Policy information, check with Westin Park Central Dallas. A Pet Policy will have to be signed when bringing your pet with you.
Parking
Self-Parking and Valet are available. Each of these parking options comes with an additional nightly fee.
Fitness Center
The Westin Fitness Center is full of Elliptical Machines and Treadmills and they also have Free Weights. Enjoy your time at the Fitness center on your schedule.
Dining
Urban South Dine offers some great options with an American-style dining experience. The dress code is casual, and Breakfast, Lunch, and Dinner are served in this onsite restaurant.
Business & Event Spaces
Business services are provided down the hallway to the right of the check-in counter. A computer and printer are available for your needs with full internet access. Event spaces are also available should you need to host your next event in the Dallas area.
Please note the information and fees provided can change without notice, however, they were accurate when published. To confirm all details, you will need to check directly with the properties in question before completing your vacation planning.
RESERVATIONS
The Westin Park Central Dallas